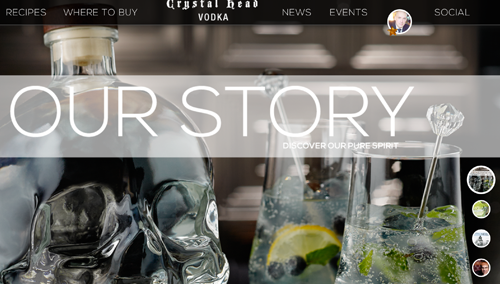 Recipe Submissions
Not only have we added some great new recipes to our website, we've also added a page for our fans to submit their own CHV recipes! We can't wait to see all the delicious drinks you've created.
Store Locator
Our favourite new feature is the store locator. With mapping capabilities, it is easier than ever to find the Crystal Head Vodka retailer closest to you.
To all of our retailers and establishments serving CHV: don't miss the opportunity to be listed on our website! Send your information to community@crystalheadvodka.com and we'll be happy to add you to our list.
Star Tenders
We launched the Star Tenders program to celebrate the bartenders that inspire us from around the world. The new website has a page dedicated to our Star Tenders where you can learn more about them and the CHV recipes they have created.
Social
While you're checking out our new website, take a peek at the new social page for a snapshot of the top Crystal Head conversations taking place on social media worldwide. Don't forget to join us on Facebook, Twitter, Google+, YouTube, Instagram, and Pinterest!