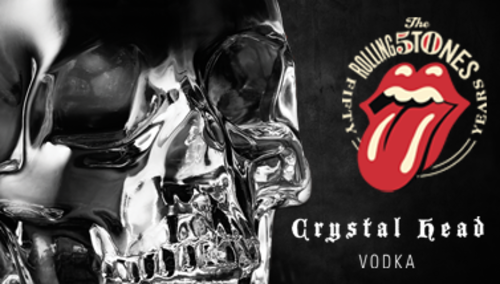 Crystal head Vodka and Universal Music Canada, have joined forces with The Rolling Stones, the Greatest Rock 'n' Roll Band in the World, to create an exclusive, limited edition Rolling Stones 50th Anniversary Gift Set.
The announcement was made today by Aykroyd and Universal Music Canada President & CEO, Randy Lennox.
Crystal Head Vodka (CrystalHeadVodka.com) – the multiple award-winning Canadian vodka – has just been named the official vodka of The Rolling Stones 50th Anniversary.
"It is a huge honor and recognition of our high quality product to have Crystal Head designated as the officially authorized vodka for the Rolling Stones 50th Anniversary Worldwide celebration," Aykroyd exclaimed. "Together with Bravado, the band's licensing company, we have created the ultimate gift package for Stones fans and their families. There has never been a greater Father's Day gift, Halloween decoration or Christmas present. Anybody who loves the Stones or great vodka – and pretty much everyone I know loves both – will be all over this."
Included in this highly collectible gift set:
Stunning handcrafted display case featuring a real zipper—recalling the legendary Sticky Fingers album cover
Bottle of Crystal Head Vodka
2CD Live Compilation – spanning The Rolling Stones five decades on stage
Crystal bottle decanter top—engraved with The Rolling Stones iconic lip-and-tongue logo
Bottle sticker—featuring the 50th anniversary logo
"The Rolling Stones and Crystal Head Vodka are two iconic brands and we're thrilled to be partnering with both in this, the Stones' 50th year," commented Lennox. "The Stones are the greatest rock 'n' roll band of all-time and Crystal Head Vodka a leader in the spirit world with the synergies between the two brands endless. We are excited to be working alongside Dan and his creative teams to bring this wonderful partnership to the fans."
Crystal Head honoring the Stones in this way makes perfect sense: The Stones make great music with passion and creativity—and Crystal Head makes great vodka the same way. In 1989 the Stones were named to the Rock and Roll Hall of Fame—and in 2013 Crystal Head was named Gold Medalist for Excellent Taste at the PRODEXPO Exhibition, in Moscow, Russia. As Aykroyd said on hearing the news of the award, "If Russians do not know their vodka, who does?!"
The limited edition 50th Anniversary commemorative package will retail for $89.95 – $99.95. It is the perfect Father's Day gift for any rock fan, sure to be proudly displayed on any bar or music shelf—or both!