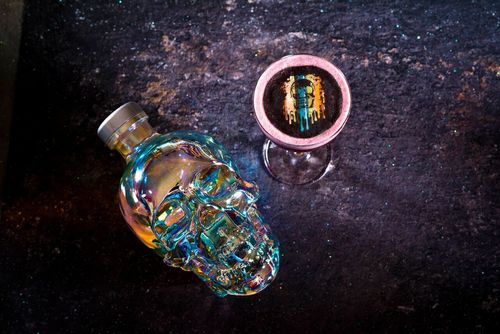 Can you guess where Crystal Head Vodka's newest home is?
What if you were told that it was a premium, hot-spot location for cocktails with literary themes, referring to an assortment of books and authors?
The Principal Hotel is the place! Now, you can enjoy two custom CHV cocktails created by Paul Connolly of The Printing Press.
The first mouth-watering cocktail, "Skulls in The Stars", is comprised of Crystal Head Aurora, crème de cassis, and topped with edible stardust. Behind the delicious taste is a reference to a fantasy fiction book, by Robert E. Howard, centered around Solomon Kane.
The second cocktail, "The Slow Dance of the Infinite Stars", includes Crystal Head Vodka, velvet falernum, crème de violet, lychee and lemon. Also, topped with dehydrated raspberries. This cocktail name is a quote from the novel, "Stardust", by Neil Gaiman, about a boy living in a village that borders with a magical land.
Which cocktail has your taste-buds tingling? Either way, your next destination is located on George Street in Edinburgh, Scotland.
Cheers!