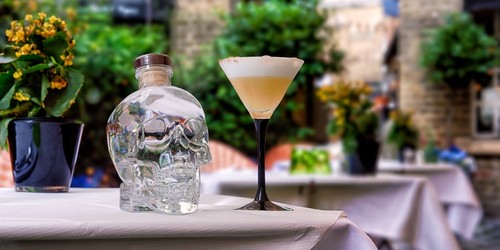 A busy weekend with Hush Mayfair serving up Crystal Head cocktails.
Cocktails in the City events are the perfect opportunity to experience drinks in your local cities. We were excited to team up with Hush Mayfair and share Crystal Head cocktails in London!
With entertainment and 25 pop up bars, Cocktails in the City brings bartenders and customers together to experience brands in a unique way.
Hush featured the Hush Wall where people could come by and get their photo put on the wall along side with Co-founder Dan Aykroyd.
The bartenders from hush were also serving the Crystal Head Vodka featured drink, The Marilyn.
Ingredients
40 ml Crystal Head Vodka
2 teaspoons Rhubarb Jam
20 ml Pineapple Juice
15 ml Double Cream
10 ml Vanilla Syrup
10 ml Elderflower Cordial
Instructions
Shake the first three ingredients and strain into chilled martini glass
Charge the remaining three ingredients in a CO2 Gun to create a foam and top the drink
Garnish with cacao sprinkles
Thank you to everyone who stopped to visit us and enjoy a cocktail.