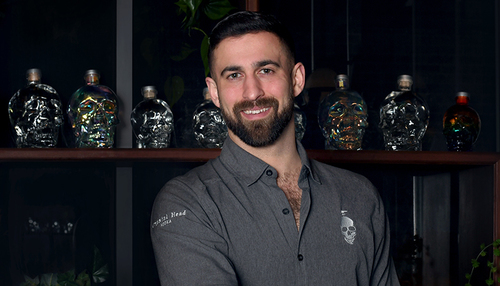 Billy has gained over 10 years of experience in the spirits industry as a bartender before joining Crystal Head Vodka as a US Brand Ambassador in April 2018. Attracted to the Brand Ambassador role by the potential to travel and meet people from all over the country, Billy was eager to start a new chapter with Crystal Head Vodka, a brand he felt connected to.
Responsible for the East Coast of the United States, Billy resides in Philadelphia. His charisma and people skills are an asset across his territory, allowing him to build strong relationships with accounts across the East Coast. He is also an advocate for the LGTBQ+ community, and you may recognize from our Pride Alive Instagram Live segments! Get to know a little more about Billy and what he loves about the industry.
What do you enjoy about being a Crystal Head Vodka Brand Ambassador?
Two things stick out for sure. One is having the opportunity to build relationships with bartenders in different cities and being able to share with them Crystal Head and what it's all about. Second would be developing novel programming for the brand that is shared with our many supplier and distributor partners across the country. I take great pride in building those successful programs.
What inspires you?
Overall in life I'd say I'm inspired by outgoing and engaging people. The human experience is all about connecting and you have to be open to that. Seeing others engage in a sense influences me to be a more engaging person.
What does Creative Spirit mean to you?
Creative Spirit to me is expressing yourself in your truest form, not allowing any other factors to hold you back. That is when your spirit shines the brightest.
Tell us something special about yourself.
Well outside of the everyday Brand Ambassador role, I enjoy singing. Whether it's just in the shower or competing in competitions, I like everything from rock to Broadway and I enjoy taking songs and gearing them to my vocal range.
What are your social media handles?
Facebook: Billy Cavallo
Instagram: @Billy.In.Philly
Your favourite original Crystal Head Vodka cocktail?
The Fallen Mule
1 ½ oz. Crystal Head Vodka
2 oz. Apple Cider
2 oz. Ginger Beer
How To:
Build in a copper mug with ice. Stir and garnish with cinnamon stick before serving.