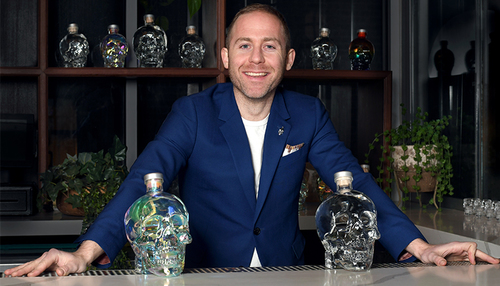 Chris Baldwin aka "Munky" joined the spirit industry in 2002 and gained experience managing bars and restaurants before joining the Crystal Head team as our European Brand Ambassador in early 2018. This year, he celebrates his three-year anniversary with Crystal Head Vodka. Chris is a skilled bartender, cocktail consultant and one of Crystal Head Vodka's Alumni Startenders. He has an extensive bank of knowledge on crafting unique cocktails, and has led innovative creative pursuits within the industry, such as ultrasonic infusion.
What do you enjoy about being the Crystal Head Vodka Brand Ambassador?
I love the creativity working with a brand like Crystal Head gives me. After all, it is the creative spirit!  No two days are the same, which makes the job really fun. It also means I get to meet lots of interesting and creative people, and I get to drink interesting and delicious drinks made by skillful and creative bartenders.
What's your all-time favourite cocktail? 
It depends on my mood and the occasion, but if I had to pick one I'd find it pretty hard to see past a Lemon Peel Martini made with Crystal Head Aurora, Cocchi Americano and Lemon Peel (obvs.)
What's your favourite city you've visited for work and why?
That's a difficult one, because we're always so well looked after by the bartender community when we visit. Budapest is definitely one of my favourites.  I also always have a lot of fun in Ibiza and Vienna, as well as Berlin. We have a lot of fun wherever we go, it helps having a lot of friends around a lot of really cool cities.
Tell us something special about yourself?
I love ambitious sandwiches. I will attempt to cram in as much as I can between two bits of bread with very little hope of being able to fit it into my mouth. I'm an eternal optimist, so I never learn.
What does Creative Spirit mean to you?
To me, Creative Spirit means having complete freedom of expression in any form that brings happiness to you and others.
What's your Instagram handle?
My Instagram handle is @cocktail_munky
What's your favourite original Crystal Head cocktail or twist on a classic? 
My favourite cocktail I've created would have to be the Lemon Peel Martini using Crystal Head Aurora. You can find the recipe here.
Lemon Peel Martini
2 oz. Crystal Head Vodka
1 oz. Dry Vermouth
Lemon Peel
Add Crystal Head Aurora, vermouth and lemon peel into a mixing glass with ice. Stir until ice cold. Strain into a frozen maritini glass and zest with lemon peel by twisting over cocktail. Garnish with lemon peel.