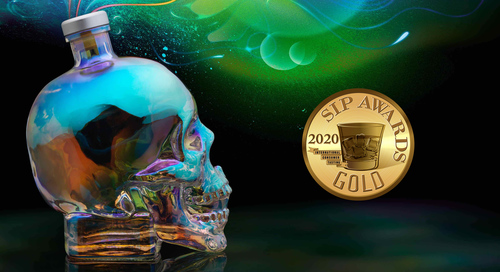 Exciting news! Crystal Head Vodka is proud to announce we have been awarded a Gold Medal at the 2020 SIP Awards for our ultra-premium expression, Aurora. This award is a testament to our continued commitment to quality and innovation through our pure, creative spirit.
The SIP Awards stands apart from other awards as the only internationally recognized consumer judging spirits competition. It's judges cater to the opinions and palates of consumers, which presenting a unique sprit competition, unswayed by industry bias. This provides a refreshing platform for honest evaluation, feedback and recognition for top brands to showcase their acheivements.
Crystal Head Vodka introduced Aurora as a celebration of Aurora Borealis. This ultra-premium spirit is distilled from the highest-quality English wheat, and blended with pristine water from Newfoundland, Canada. It is crafted completely additive free. Aurora's purity is maintained by five distillations and seven filtrations, three of which are passed through semi-precious Herkimer diamonds.