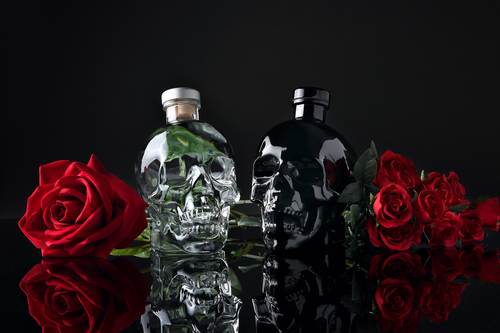 For some, Valentine's Day is the perfect day to toast to lovey-dovey romance. For others, the words "Valentine's Day" may be met with an eye roll and an immediate "nope." Love it or loathe it, V-Day is coming at you quick – so get ready.
We get it, Valentine's Day isn't for everyone. Whether you're in a relationship, getting together with friends, or happily solo—the heart wants what it wants, and it wants to be pampered. If you're looking to duck out of the mushy festivities, there are plenty of ways to celebrate outside of rom-coms, candlelit dinners and bouquets of roses. For us, V-day doesn't stand for Valentine's Day at all—V stands for vodka. And this Vodka Day, let us treat you.
Valentine's Day Tip: A dozen red roses and a fancy dinner cost more than a bottle of Crystal Head Vodka!
So, ditch the roses and make cocktails!  Check out these fun and easy recipes that you can make at home to spoil yourself or that special someone.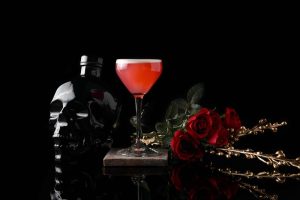 Love Stinks!
1 ½ oz. Crystal Head Onyx
½ oz. Cointreau
¾ oz. Lime Juice
1 oz. Hibiscus Tea
Steep hibiscus tea for five minutes or as directed. Set aside and cool for a few minutes. Once tea is cooled, build ingredients in a cocktail shaker and shake with ice. Strain into a chilled coupe glass and serve.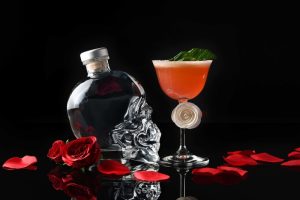 Heartbreaker's Rosé
1 ½ oz. Crystal Head Vodka
¾ oz. Fresh Lemon Juice
¾ oz. Simple Syrup
Muddled Raspberries (6)
Muddled Mint (4-5 Leaves)
Top with Sparkling Rosé
Muddle ingredients in a cocktail shaker and shake on ice. Double strain into a chilled coupe glass. Top with sparkling rosé and garnish with mint.