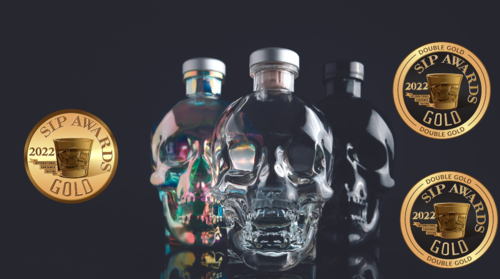 Crystal Head Vodka is excited to announce its success at the 2022 SIP Awards.
The SIP Awards were created with a simple question in mind, "What about the consumer's opinion?" The goal was to fill this void, bringing the people who regularly consume product together to decide which brands deserve this prestigious award. The SIP Awards set out to create a fair competition by strategically choosing consumers from all demographics, conceiving an event that cuts to the core of public opinion as a starting point, rather than an afterthought, in branding and product development.
The SIP Awards is the only international spirits competition leveling the playing field for established brands and newcomers alike by enlisting consumers as judges. The SIP Awards remain steadfast in their goal of providing one of the most reliable measures of beverage quality rating in the world by delivering the opinions, thoughts, and voices of the consumers to the general public.
Crystal Head Vodka is proud to be recognized for the following awards:
GOLD – Crystal Head Original
DOUBLE GOLD – Crystal Head Aurora
DOUBLE GOLD – Crystal Head Onyx