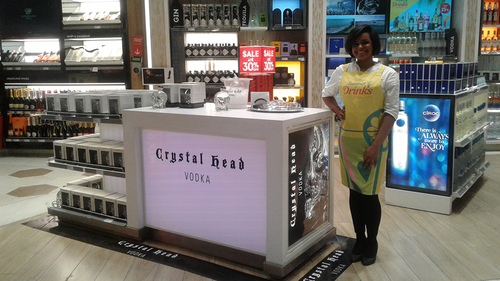 Crystal Head Vodka launched a combination of activations, which showcase the purity and simplicity of the product. The initial promotion was launched with Dufry in Rio de Janeiro, Brazil airport (GIG) in January followed by Heinemann in the Hamburg, Germany Airport (HAM) in March.
The installation in Rio de Janeiro invited shoppers to try the multi-award winning Crystal Head Vodka at a branded tasting bar. The promotion also included digital media advertising the purity of the brand.
The Rio deJaneiro and Hamburg activations both showcased "head turning" displays featuring a crystal glass stopper gift with purchase.
Crystal Head Vodka offers two travel retail exclusive products including a 1L format and a 4 x 50ml gift pack.
Crystal Head Vodka is currently sold in over 60 countries around the world.
We are looking forward to seeing you at the TFWA Singapore show on stand D-28.
We are looking forward to expanding our presence in the Asia Pacific, Duty Free, and domestic markets.