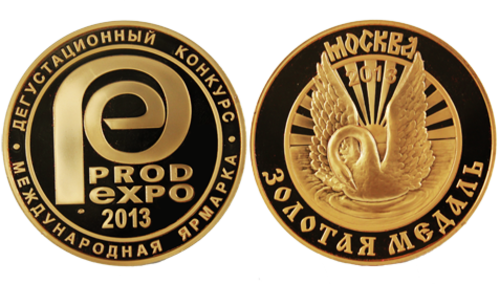 Crystal Head was awarded a Gold Medal for Excellent Taste at the 2013 PRODEXPO, in Moscow, Russia.
Crystal Head, the bestselling, ultra-premium vodka, was awarded a Gold Medal forExcellent Taste from the 15th International Tasting Contest at the 2013 PRODEXPO Exhibition, in Moscow, Russia.
PRODEXPO is the largest food and beverage exhibition in Russia and Eastern Europe—and hosts the region's most prestigious tasting competition. 198 companies, representing beverages from more than 22 countries, participated in this year's tasting competition. Crystal Head was one of 400 vodkas up for consideration.
The members of the tasting committee are representatives of National Institute of Beverages and Wine, National Institute of Food Biotechnology and the International Association of Sommeliers in Russia.
A panel of 11 judges, Russia's elite wine and spirits tasters, awarded Crystal Head Vodka with a Gold Medal for Excellent Taste.
Co-founder of Crystal Head, Dan Aykroyd, simply states, "Crystal Head Gold Medal – best tasting vodka in Moscow contest – a significant honor. Like winning best sushi in Japan! If Russians do not know their vodka, who does?!"
Crystal Head is a Canadian vodka, completely free of any additives. This naturally pure vodka is produced using the highest quality grains and the pristine waters of Newfoundland, Canada. It is quadruple distilled and filtered seven times the final three filtrations are through semi-precious crystals known as Herkimer diamonds.
"We are thrilled to have won Best Tasting Vodka in the largest bar show in Russia. Winning such a top honour in a country that has such a long history of great vodkas is very gratifying," says Jonathan Hemi Vice President, Globefill Inc. "Russians are well known to have some of the most discerning palates for vodka and are known worldwide as one of the best vodka producing countries. This gold medal only further verifies for us that our vodka is more than just a stunning bottle. It is also the finest tasting, additive free vodka in the world," Hemi adds.
This isn't the first award Crystal Head has brought home. The brand was presented a Double Gold Medal at the San Francisco World Spirits Competition in 2011 for its premium taste. Of more than 200 vodkas entered in the competition, Crystal Head was one in only a handful to receive a Double Gold. More recently, CHV received two prestigious awards at the 2012 Australian Liquor Industry Awards. The first was forLuxury Spirits – $75 Plus and the second for New Product of the Year.