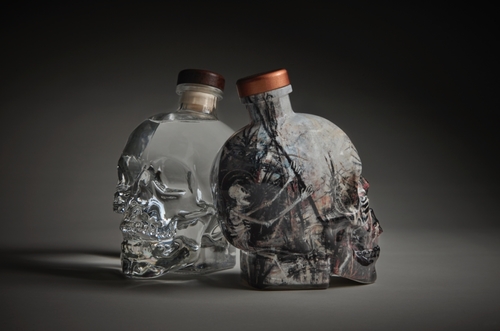 Multi-award winning, ultra-premium Crystal Head Vodka, known for its signature skull bottle, has tested the boundaries once again with the premiere of their first, limited-edition, John Alexander artist series bottle to commemorate a 10-year anniversary.
John Alexander is the creator if the signature skull Crystal Head bottle, a design that is an exact rendering of a human skull. He is a renowned American artist, whose work can be found in museums across the US, including the Metropolitan Museum of Art in New York and other private collections worldwide. Known as a painter of environmentally conscious landscapes and satirical figurative work, this evocative bottle finish is derived from Alexander's expressive 1988 oil painting 'Dancing on the Water Lilies of Life,' which is currently on display in the Dallas Museum of Art. The decoration process of these limited-edition bottles takes place in a small artisanal workshop in Milan, Italy. Each of the 25,000 bottles have been hand-decorated by one of three highly skilled craftsmen, and then numbered to further emphasize its scarcity.
Artist John Alexander commented, "I am thrilled to unite this expressive painting with the unique design of the Crystal Head bottle to help create the first edition in the artist series. This bottle stays true tot eh signature style of Crystal Head and appeals to spirit drinkers and art lovers alike."
John Alexander's work is celebrated in this exquisite artist series bottle, housing the award-winning, Original Crystal Head Vodka. It is not only a beautiful keepsake, but also a unique opportunity to own a piece of his art.
"John Alexander is an exceptionally talented artist and has been involved in our creative process from inception," said Jonathan Hemi, Managing Partner of Crystal Head Vodka. "It is only fitting that he designs this special edition bottle as we continue to introduce products that push boundaries and create an excitement our consumers gravitate towards."
Crystal Head Vodka is additive-free and crafted using the highest quality 'peaches and cream' sweet corn and blended with pristine water from St. John's, Newfoundland. It is four times distilled before being filtered seven times – three of which are filtered through over 10,000 Herkimer diamonds. On the nose, Crystal Head has neutral grain aromas with delicate touch of citrus. The taste profile is silky smooth with a hint of sweetness and vanilla. The finish is sweet and creamy with a pleasant warming sensation.
Crystal Head Vodka is a globally recognized spirit and has won numerous awards for its high-quality vodka including:
Double Gold Medal at the San Francisco World Spirits Competition
Documented in Cool Brands list for influential, edgy, and innovative brands
Gold Medal for Excellent Taste at the PRODEXPO in Russia
The John Alexander artist series no.1 bottle will be available in 700 mL and 750 mL sizes. It will be exclusive to Travel Retail exclusively for 6-months before hitting the domestic market in August 2018. Dufry Travel Retail will be the first to offer this exclusive collectible in North America in select airport locations.