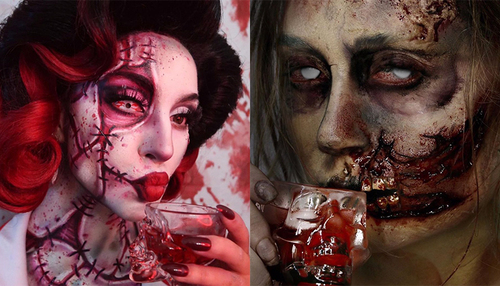 With the help of Cask Liquid Marketing, we partnered up with The Makeup Armoury to run a Spooktacular-Halloween contest in the UK. Entrants were able to show us their hauntingly elaborate Halloween looks for a chance to win a year supply of Crystal Head Vodka.
With over 100 entrants, we saw all kinds of Crystal Head inspired makeup looks. From skulls, to gruesome characters, to your classic stiched-up nurse, we saw lots of creative spirits come alive for the Halloween season! Out of all our entrants, a final six were selected. We asked our fans to vote for their favourites via Instagram to narrow it down to our top three.
After a final round of voting, our fans selected @freyapixiemakeupartist as our winner. She received a full year's supply of Crystal Head Vodka!
Thank you to all of our Monsters Cocktail Party guests, and all of our fans for voting! Stay tuned for the next one… you're invited!