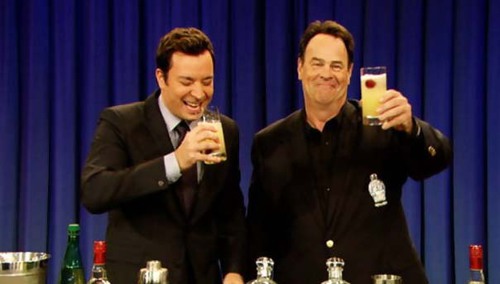 Our founder Dan Aykroyd made a memorable appearance on Late Night with Jimmy Fallon this past Tuesday.
Dan rocked the crowd with his "Blues Brother" performance and wowed them with The Rolling Stones 50th Anniversary Commemorative Pack. They discussed the ban of the pack in New York and Dan delivered Jimmy "A Punch in the Head"; a delicious summer cocktail made with our award winning Crystal Head Vodka of cours.
A Punch in The Head
1 ½ oz. Crystal Head Vodka
½ oz. SOHO Lychee Liqueur
2 oz. pineapple juice
2 oz. Perrier
Add Crystal Head Vodka, Lychee liqueur and pineapple juice to a shaker filled with ice. Shake well then strain into a tall glass filled with ice. Top with 2 oz. of Perrier and a few fresh cherries. Gently stir and serve.