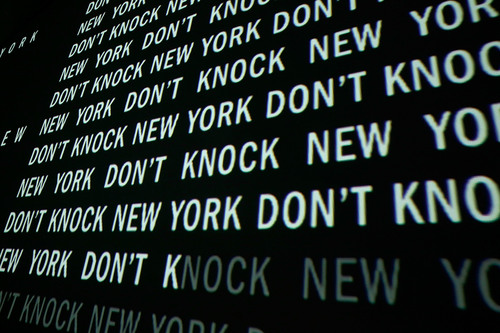 LONDON, 17 JUNE 2016 – Last night DKNY and Dazed magazine hosted an exclusive party to celebrate the London launch of the #DxKxNxYx acronym collection. The sweaters and tees feature the acronyms Designers Know Nothing Yet, Dazed Kids New York and Don't Knock New York with bespoke cocktails featured by Crystal Head Vodka.
(Dao-Yi Chow, Jefferson Hack and Maxwell Osborne)
In attendance were DKNY creative directors Dao-Yi Chow and Maxwell Osborne, Jefferson Hack, Lottie Moss, Ryan Lo, Nabinah Iqbal, Jess Maybury, Bella Howard, Elizabeth Jane Bishop, Naomi Shimada, Ella Hope Merryweather, Greta Bellamacina, Niall Underwood, Caroline Brown and Dazed's creative director and editor-in-chief Robbie Spencer and Isabella Burley.
The sweatshirts were launched at New York Fashion Week with a limited 300-piece collection and fans so far include, Ellie Goulding, Miroslava Duma, Jourdan Dunn, P Diddy and Yasmin Sewell.  The collection will be launched in stores worldwide at the end of June including Harvey Nichols, Harrods, Brown Thomas and DKNY Old Bond Street.
Crystal Head Vodka provided delicious cocktails in the evening including,
Elderflower Collins: Crystal Head Vodka, Organic Elderflower Cordial, San Pellegrino Limonata
Moscow Mule: Crystal Head Vodka, ginger beer, lime
NYC Fizz: Crystal Head Vodka, raspberry & strawberry puree, fresh lemon juice, topped with fizz.
To celebrate the launch, DKNY released 100 limited edition #DAZEDKIDSNEWYORK tees designed by DKNY's Creative Directors Dao-Yi Chow and Maxwell Osborne – only available to guests who attended the party.
#DAZEDKIDSNEWYORK was held at Shoreditch Studios in London and featured a lighting concept by visual artist and creative director Tupac Matir. The party featured a live performance by Nadia Rose and special DJ line up Throwing Shade (Nabihah Iqbal), The Extortionists (Dao-Yi Chow and Ibe Soliman) and Siobhan Bell and was attended by an eclectic mix of people from the fashion, music, art and entertainment industry.
(Julia Campbell Gillies)