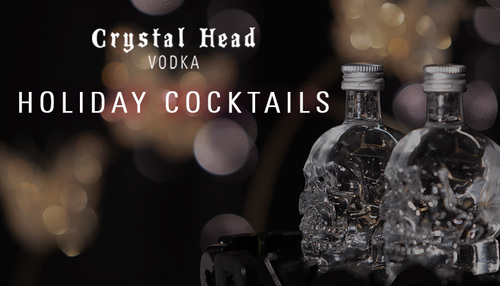 This holiday season is anything but traditional, but our Christmas spirit is as bright as ever. Despite celebrations taking shape in different ways than years past, there is no shortage of reason to celebrate. Toast the season with one of our festive Crystal Head cocktails.
Blood Orange 75
1 ½ oz. Crystal Head Vodka | 45ml
1 ½ oz. Blood Orange Juice | 45ml
¼ oz. Simple Syrup | 7.5ml
¼ oz. Fresh Lemon Juice | 7.5ml
Top with Sparkling Wine
Method:
Build ingredients in a cocktail shaker with ice and shake. Strain into a chilled coupe glass, and top with sparkling wine. Garnish with dehydrated blood orange wheel.
Mule-Tied Plum
2 oz. Crystal Head Aurora | 60ml
Muddled Thyme and Plum
½ oz. Fresh Lime Juice | 15ml
½ oz. Spiced Plum Syrup* | 15ml
Top with Ginger Beer
Method:
In a mixing glass, muddle thyme and plum with other ingredients excluding ginger beer. Strain into a mule mug with plenty of ice and top with ginger beer. Garnish with thyme and plum slice.
*Spiced Plum Syrup: In a saucepan over medium heat, add 1 cup demerara sugar and ½ cup water. Stir in cinnamon, three cloves and diced plums. Bring to a light boil, continuing to stir and press plums to extract the juice. Reduce heat, cool and then fine strain. 
Ho-Ho-Hot Chocolate
2 oz. Crystal Head Onyx | 60ml
6 oz. Hot Chocolate | 170ml
Bar Spoon Ancho Chili Powder (optional)
Toasted Marshmallow
Method:
Build Crystal Head Onyx and hot chocolate in serving glass and stir. For the extra flare of a Mexican-inspired hot chocolate, stir in one bar spoon of ancho chilli powder. Garnish with toasted marshmallow and freshly grated cinnamon.