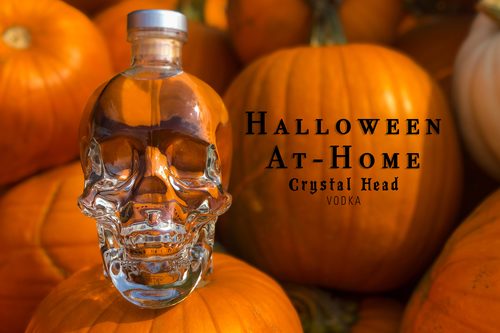 'Tis the season for everything spooky! While this Halloween may not be the usual monster mash, these Halloween-inspired, at-home potions are bound to make your Halloween scary good. *Cue the shrill cackling* Try them… if you dare. 
The Crystal Witch
1 ½ oz. Crystal Head Vodka
½ tsp. Matcha Powder
2 oz. Pineapple Juice
½ oz. Fresh Lime Juice
½ oz. Agave Syrup
Muddled Thyme
½ oz. Egg White
Method:
In a shaker without ice, muddle Crystal Head Vodka and thyme. Add the remaining ingredients, and dry shake. Add ice, and  shake again. Double strain into desired glass, and garnish with lime and thyme.
Blood In The Water
1 ½ oz. Crystal Head Onyx
½  oz. Cointreau
½ oz. Creme de Cassis
¾ oz. Fresh Lime Juice
¾ Agave Syrup
2 oz. Ginger Beer
Method:
In a cocktail shaker with ice, add Crystal Head Onyx, Cointreau, lime juice and agave syrup. Shake until chilled, and strain into a glass filled with ice. Top with ginger beer, then slowly pour Creme de Cassis over top before serving.
Smoke, Mirrors and Colours
1 ½ oz. Crystal Head Aurora
1 oz. Dry Vermouth
½ oz. Mezcal
Method:
Add ingredients into a mixing glass with ice and stir until chilled. Strain into a coupe glass.
* Caution: this cocktail is pictured with dry ice. If using, do so with caution and do not ingest.