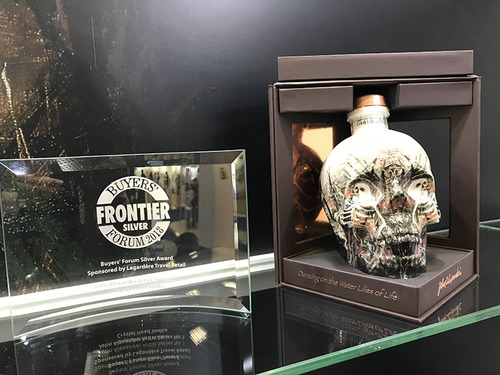 John Alexander Artist Series Bottle wins a Silver Medal at this year's Buyers' Forum Awards in Cannes, France.
Crystal Head Vodka is thrilled to take home a Silver Medal from the prestigious Buyers' Forum Awards for the limited edition, John Alexander Artist Series bottle. The awards took place on October 3rd 2018 in Cannes, France.
The judging for this award is done by industry experts chosen for their experience and expertise. Throughout the year, they put products to the test comparing marketability, presentation and sales potential within travel retail. The best products from the year are chosen for the Buyers' Forum shortlist. From this list, the judges must choose the winners.
The Crystal Head Vodka team would like to thank Frontier Magazine and the judges who took part in this year's awards. We are so grateful to be recognized among so many outstanding entrees.