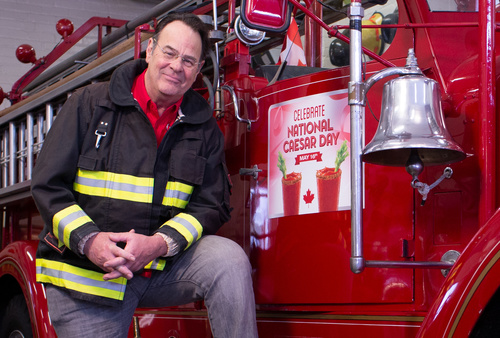 On May 16th we teamed up with Mott's Clamato and celebrated National Caesar Day! Even more noteworthy, this year Canada's National Cocktail turns 50! Here is what we did to celebrate:
On May 15th, for the first time in North America, we released the 1.75L of Crystal Head Aurora at the Summerhill LCBO. To top things off, each individual bottle was signed by non-other than Dan Aykroyd.
May 16th we hosted an intimate tasting seminar where guests learned about the history of Mott's Clamato and made Caesar's based on two different Crystal Head recipes. Guests also had the opportunity to meet with Dan Aykroyd. We offered a large range of Caesar garnishes such as Matt and Steve's pickled beans, Tabasco hot sauces, celery, jerky and more.
Later in the evening, Mott's Clamato hosted a VIP event. Those who attended had the chance to make their own Caesars, mingle with Dan Aykroyd, and try a wide array of food catered by Victor Dries. Most notably was Dries Chicken Liver Mousse Crostini, Nordic Shrimp Campechano, and upscale Caesar garnish.
A tasting bar was also offered to Summerhill LCBO guests on May 15th and 16th where they were able to sample Crystal Head Caesars.
To find additional information or photos of this event, please visit our Facebook page here.
Thank you to our partners Motts, Lea Perrins, Matt and Steve's, as well as Tabasco for your contribution. We would also like to thank all attendees for coming to celebrate with us!