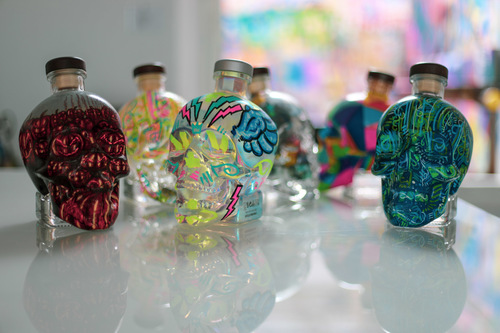 The Creative Spirit Competition was open to bartenders across the UK. Competitors submitted their original Crystal Head Vodka cocktails through an online platform and the top 30 were selected to create their drink in front of a judging panel consisting on Crystal Head Brand Ambassadors and expert's PJ Jaurre, Chris Baldwin and Barlife UK's Simon Webster.
The top 10 contestants were then picked and entered into the next round, the ultimate two-day creative challenge.
The competitors were taken to Graffik Art Gallery, located on Portobello Road in London and participated in a masterclass with SixMik Art, a street artist and longtime friend and advocated of Crystal Head Vodka. Using a Magnum of Crystal Head as a canvas, competitors were challenged to produce their own art piece that embraced their inspirations and Creative Spirit. It was essential that their piece be tied to the brand and their creative drink that they were presenting the following day. The art pieces that were made were exceptional!
The second day of the two-day challenge was "competition day." The 10 competitors had to present 2 of their own original drinks. They were required to use either Crystal Head Original or Crystal Head Aurora in their recipes. Once their products were created, presentations began. The contestants presented all contest pieces along with their drinks, including their artwork and decorated Crystal Head Magnum from the day before.
The final was held at Do Not Disturb Speakeasy bar in the Vintry & Mercer Hotel. All 10 competitors did an exceptional job embracing their Creative Spirit and creating a variety of elements to reflect their inspirations.
The competitor who shined above the rest was Toby Heap.  His first drink was called Emerald Dawn and captured the essence of Newfoundland. He used Crystal Head Aurora in his cocktail and created edible snow and pine cones for his presentation. For his second drink, Toby was inspired by a Native American Legend, which he used to create his canvas. His cocktail contained flavours of cacao, peach and mole to tie in Native American Crop. He decorated the bottle with corn to represent the raw material used to make Crystal Head Vodka.
We would like to congratulate the newest Crystal Head Startender, Toby for his excellent creations! Toby's artwork and final drink were brilliant pieces.
Thank you to everyone who participated in the Creative Spirit Competition.
Please visit our Facebook page here for more photos of the competition.