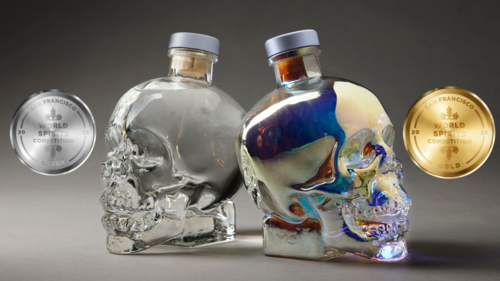 Crystal Head Vodka is excited to announce its success at the 2022 San Francisco World Spirits Competition.
The San Francisco World Spirits Competition is the oldest and largest competition of its kind. With nearly two decades of experience, the SFWSC is one of the most respected spirits competitions. An esteemed judging panel of reputable industry experts judges spirits in a blind tasting over four days to determine which entries are worthy of a medal. A medal from the SFWSC indicated the highest standard of quality.
Crystal Head Vodka is proud to be recognized for the following awards:
GOLD MEDAL – Crystal Head Aurora
SILVER MEDAL – Crystal Head Original
Crystal Head Vodka is a multi-award-winning vodka, using only the highest-quality ingredients to create unique expressions of ultra-premium vodka completely additive-free. Crystal Head's original vodka is crafted from locally sourced Canadian corn, offering a silky-smooth vodka with a hint of sweetness and vanilla. Aurora uses the highest-quality English wheat with its iridescent metallized finish bottle, offering a crisp, drier, bolder vodka. Onyx is the first commercially available agave-based vodka with subtle hints of agave, citrus, green grass and white pepper. All the Crystal Head expressions are blended with the pristine water from Newfoundland, Canada and filtered through Herkimer diamonds as a final distinctive touch.