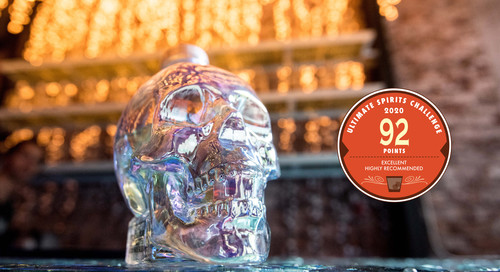 Crystal Head Vodka is proud to announce it has been awarded a 92-point rating for it's ultra-premium expression, Aurora from the 2020 Ultimate Spirits Challenge. This acheivement showcases our continued commitment to quality and innovation in our spirits.
The Ultimate Spirits Challenge is a higher standard of evaluation spirits. Providing the most expert evaluation of fine-crafted spirits and the finest judges. Each product is reviewed under ideal tasting conditions over a period of time, and is evaluated blindly by panels in multi-stage assesments. This removes any possible inherent or individual bias, in order to produce honest feedback and trustworthy results.
Crystal Head Vodka introduced Aurora as a celebration of Aurora Borealis. This ultra-premium spirit is distilled from the highest-quality English wheat, and blended with pristine water from Newfoundland, Canada. It is crafted completely additive free. Aurora's purity is maintained by five distillations and seven filtrations, three of which are passed through semi-precious Herkimer diamonds.